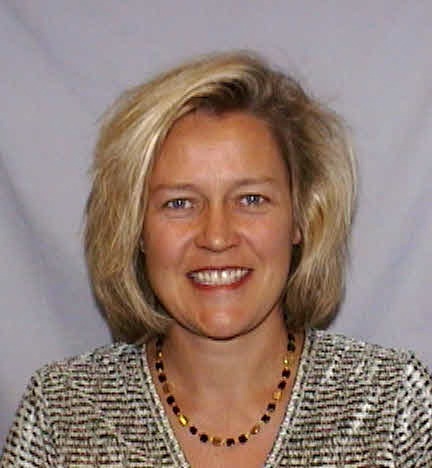 Maryann Huey, assistant professor of mathematics at Drake University, has been awarded a $600,000 three-year grant from the Iowa Department of Education for her project, "Statistics and Probability, Content and Pedagogy, for Secondary Teachers." During the exploratory year in 2013–2014, Huey collaborated with Wendy Weber, a mathematics professor at Central College, to provide professional development to 20 high school teachers from the Great Prairie Area Education Agency 267. Based on successes of that year—advancing teachers' content knowledge, developing and enacting lesson plans, and gains in students' mathematics achievement—a three-year grant proposal was submitted and awarded.
The new grant will allow efforts to expand this year to other areas in Iowa, specifically supporting teachers from districts in need of assistance (DINAs).
In a recent report, the American Statistical Association (ASA) and the National Council of Teachers of Mathematics (NCTM) called on universities and school administrators across the country to provide high quality training and professional development opportunities that will help prepare future and current teachers to lead classes on statistics. Research has found that despite advancing content recommendations, actual changes in classrooms have lagged behind, and that teachers require statistics and probability coursework in alignment with the content to be taught in grades 6–12 across the nation. This project aims to address these issues and implement the Iowa Core Mathematics Standards.
"With the new emphasis placed on statistics and probability in the national and Iowa mathematics standards, teachers are scrambling to modify their instruction," says Huey. "The purpose of this grant is to not only to prepare teachers, but to develop engaging activities for Iowa students that involve real-world situations and solve problems that are important to them. The end goal is to spark students' interest in pursuing STEM-related disciplines and develop the needed self-confidence and competence to be successful in future endeavors."
Beginning in June 2014, 25-28 teachers will participate in a summer professional development workshop in Cedar Falls, Iowa with ongoing efforts throughout the academic year. Teachers will work collaboratively in professional learning communities to develop statistics and probability lesson plans and assessment items. Evidence will be collected from each teacher's classroom to determine the success of implementation. Sources of data included recording of teachers in the classroom and student work, as well as student pre- and post-assessment results, and Iowa Assessment data.
For more information, contact Maryann Huey at 515-271-2839 or maryann.huey@drake.edu.