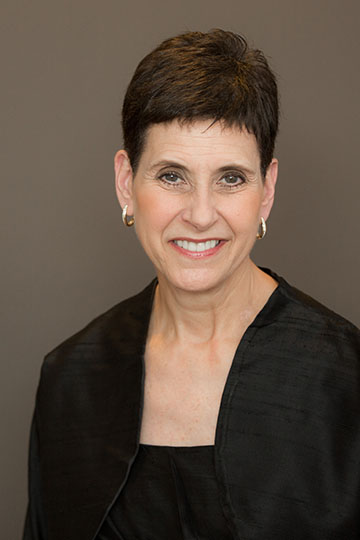 Aimee Beckmann-Collier, professor of conducting and director of choral studies at Drake University, will receive the prestigious Robert McCowen Award from the Iowa Choral Directors Association (ICDA) at its July Summer Symposium. The award is given in recognition of outstanding achievement and contributions to choral music in Iowa.
This award is not presented on an annual basis, but rather, only when the ICDA believes there is a candidate worthy of recognition.
The award has been given 30 times since 1967. Past honorees with Drake ties include:
• E. Jane Ruby, head of music education (1967)
• Francis Pyle, professor of theory and composition (1970)
• Marvin Kelley, Drake alumnus (1973)
• Allen Lehl, director of choral activities (1986)
• Gary Fiscus, Drake alumnus (2007)
• Carol Stewart, Drake music alumna (2011)
Beckmann-Collier is a professor of conducting and director of choral studies at Drake University, where she has taught since 1989. She is a frequent clinician, adjudicator, and guest conductor for high school and college choral festivals, contests, and All-States throughout the country, as well as in England and China. Choirs under her direction have performed in Carnegie Hall and Avery Fisher Hall in New York, as well as in prestigious venues in Austria, Italy, Germany, Ireland, England, Wales, and the Czech Republic, as well as for conferences of the American Choral Directors Association North Central Division.
Beckmann-Collier has served as North Central ACDA president, Iowa Choral Directors Association president, chair of the 1992 and 2012 North Central Division conferences, the 1995 ICDA conference, and is assistant chair for the ACDA national conference to be held in Salt Lake City in February 2015. In addition, she has been the editor of both the Iowa and North Central ACDA publications. Her articles on a variety of topics have appeared in the Choral Journal and the Music Educators Journal.
Beckmann-Collier recently received ACDA's Weston Noble Award for Lifetime Achievement and is the recipient of Drake University's Madelyn Levitt Award for Distinguished Community Service and Stalnaker Lecturer designation, the Iowa Music Educators Association Distinguished Service Award, National Federation Interscholastic Music Association Outstanding Music Educator's Award, and the Distinguished Alumna Award given by her undergraduate alma mater, Saint Mary's College, Notre Dame, Indiana. In August 2014, Beckmann-Collier will become the Ellis and Nelle Levitt Distinguished Professor of Music at Drake.
About the ICDA
The Iowa Choral Directors Association, Inc. serves choral musicians in the state of Iowa by providing leadership, guidance and support, offering continuing education opportunities, promoting excellence in the choral art through high quality offerings and events, supporting education and growth beyond college graduation, and enriching and renewing the musical souls of its membership.