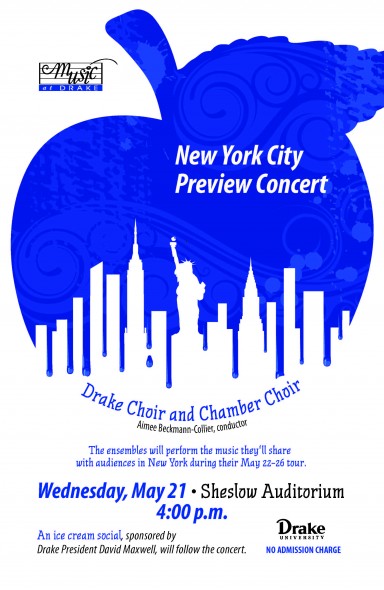 Under the sponsorship of Distinguished Concerts International New York, the Drake Choir and Drake Chamber Choir will perform at Avery Fisher Hall in New York City—one of America's most prestigious concert venues. On May 21, the choirs will perform a preview concert on Drake's campus. The concert will begin at 4 p.m. in Sheslow Auditorium and is free and open to the public. An ice cream social, sponsored by Drake University President David Maxwell, will immediately follow the concert.
"The preview concert is intended to give our hometown audience a chance to enjoy music from each of the concerts in New York," says Aimee Beckmann-Collier, director of choral studies and professor of conducting. Beckmann-Collier will conduct all of the performances.
While in New York, the group will perform two concerts—one on May 24 at the Episcopal Church of the Holy Apostles and the other on May 25 at Avery Fisher Hall in Lincoln Center. At Avery Fisher Hall, the choirs will sing the Mozart Coronation Mass, with a professional orchestra and soloists; the concert at the Episcopal Church is intended to provide Drake alumni and friends in the New York City area the opportunity to hear the group perform.
"The choirs have worked hard to prepare musically and to raise the more than $70,000 needed to fund this tour," says Beckmann-Collier. "We are grateful to all those who have supported us in this endeavor."
For more information, contact Aimee Beckmann-Collier at aimee.beckmann-collier@drake.edu or 515-271-2841.