Habitat for Humanity Opportunity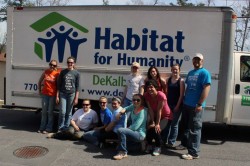 School of Education Counseling Student Cody Samec, along with other Drake University students, attended an alternative spring break in Natchez, Mississippi with Habitat for Humanity. The concept of alternative spring break originated in the early 1980s as a counter to traditional spring break trips taken by college students.  These trips typically provide volunteer opportunities to their participants.  On this trip to Natchez, Mississippi, students volunteered at different locations and learned about the issues facing many individuals. The goal was to provide a tangible place for students to learn and get involved in making a difference. Cody is the first graduate student from the School of Education to participate in alternative spring break.
Research Proposals Accepted
Counseling students, Cody Samec and Kathryn Blair, submitted a research proposal that has been accepted as a poster presentation at North American Society of Adlerian Psychology international conference in Chicago. They will present research findings on Predictive Power of Psychological Birth Order and Personality on Social Interest.  Congratulations to them on their accomplishment.
Experiential Outstanding Student Award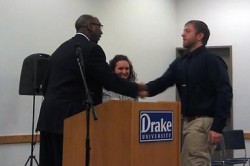 Cody Samec received the Experiential Learning Outstanding Student Award.  He received the award for his exceptional involvement in various experiential learning activities including participating in Alternative Spring Break with Habitat for Humanity, helping faculty conduct research projects, and continuous efforts to work with individuals he met in his J-Term Travel Seminar to Rio De Janerio, Brazil.
Distinguished Finalist
The American Mental Health Counselors Association (AMHCA) Foundation awards the 2014 Student Travel Scholarship.  School of Education Counseling Student, Kathryn Blair was identified as a distinguished finalist for the scholarship.
The AMHCA Foundation is committed to improving mental health through education and public awareness campaigns, scholarship awards, and support of mental health research.  An important goal of the Foundation is to promote the development of graduate students in mental health counseling through scholarships and awards.