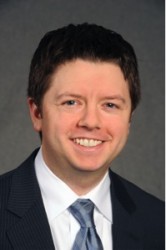 Eric Trager, the Esther K. Wagner Fellow at The Washington Institute, will speak at the Principal Financial Group Center for Global Citizenship's final event of the season on Thursday, May 1. His lecture, "The Rise, Fall, and Future of the Muslim Brotherhood," will discuss the history of the Muslim Brotherhood and where the group is heading. The lecture will begin at 7 p.m. in Sussman Theater of Olmsted Center, 2875 University Ave.
In little more than two years, the Muslim Brotherhood of Egypt went from an outlawed movement to the pinnacles of Egypt's first freely elected government to, once again, an outlawed movement. Trager will provide insights into the factors underlying the Brotherhood's changing fortunes and the movement's possible futures.
Trager is an expert on Egyptian politics and the Muslim Brotherhood in Egypt. He was in Egypt during the 2011 anti-Mubarak revolts and returns frequently to conduct firsthand interviews with leaders in Egypt's government, military, political parties, and media. His work has appeared in numerous publications, including The New York Times, Wall Street Journal, Foreign Affairs, The Atlantic, and The New Republic.
From 2006–2007, Trager lived in Egypt as an Islamic Civilizations Fulbright fellow, where he studied at the American University in Cairo and received his M.A. in Arabic studies with a concentration in Islamic studies. He later earned his Ph.D., focusing his doctoral research on Egyptian opposition parties.
This event is sponsored by the Principal Financial Group Center for Global Citizenship and the Jewish Federation of Greater Des Moines.
For more information, contact David Skidmore at david.skidmore@drake.edu or 515-271-3843.