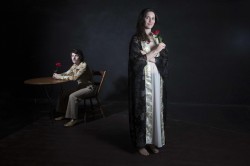 The Drake University Department of Theatre Arts presents Italian American Reconciliation by John Patrick Shanley, opening Thursday, May 1 in the Studio Theatre of the Harmon Fine Arts Center. Performances start at 7:30 p.m. Thursday, May 1 through Saturday, May 3, and 2 p.m. on Sunday, May 4. Michael Rothmayer, associate professor of theatre arts, is directing the show.
"It's one of the few comedies I've come across that made me laugh out loud as I read it," says Rothmayer. "It's a simple story told by incredibly passionate characters. That passion drives the show."
The play takes place in 1979 in New York's "Little Italy." Huey Maximilian Bonfigliano has a problem—he hasn't felt right since his divorce from his bitter, sharp-tongued, ex-wife Janice. He has lost his strength and decides the only way to get it back is to find a way to reconcile with her. To do this, he enlists the help of best friend and perpetual bachelor, Aldo Scalicki, who also serves as the narrator of the story. Before he can put his plan into action, though, Huey must first find a way to end things with his current girlfriend, Teresa. Aldo, meanwhile, hatches his own plan for saving Huey from making the mistake of his life by getting back together with Janice. Through the mishaps and false-starts that ensue, Aldo reminds us in the end that, "the greatest, the only success, is to be able to love."
John Patrick Shanley earned an Academy Award for his original screenplay Moonstruck (1987) and is the author of the Pulitzer Prize and Tony Award winning play, Doubt (2005).
This production contains mature themes including language and sexual content.
Admission is $5 for adults, $3 for students and senior citizens, and $1 for those with a Drake ID. Tickets are available at the Fine Arts Center Box Office. Reservations, which are suggested, may be made in person or by calling 515-271-3841.