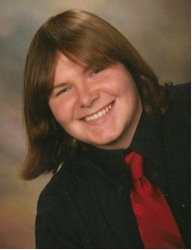 Drake University student Robert Sterner is a 2014 recipient of the Goldwater Foundation Scholarship, a prestigious award for students pursuing careers in the fields of mathematics, natural sciences, and engineering. Sterner was selected from more than 1,100 students nominated nationwide.
Congress established the Goldwater Foundation Scholarship in 1986 in honor of Senator Barry M. Goldwater. The scholarship was designed to foster and encourage outstanding students to pursue careers in the fields of mathematics, natural sciences, and engineering.
"I am so excited for Robert getting this nationally prestigious and highly competitive scholarship as a sophomore. Robert is a well-rounded student with an outstanding record of accomplishments with his classes, research, extracurricular activities, and community service," says Gholam Mirafzal, professor of chemistry at Drake University and faculty representative for the Goldwater Scholarship. "He is well-deserving of this recognition."
Mirafzal works closely with student candidates on their award applications and supports them in their research efforts.
"I am ever grateful to the tremendously supportive faculty and staff of Drake University who are incredibly nurturing to Drake students," says Sterner, who is a sophomore chemistry and biochemistry, cell & molecular biology double major, and is planning to pursue a Ph.D. degree in cell biology to teach and complete research at the University level. "Special thanks must be given to Dr. Mirafzal, for his letter of nomination, and for guiding me through the long application process and Professors Gitua, Honts, and Sleister for writing additional letters of support for my application."
Universities are allowed to nominate up to four undergraduate students for the Goldwater Foundation Scholarship each year. The application process is highly competitive, and the award is
 widely considered the most prestigious of its kind in the nation.
Visit www.act.org/goldwater/index.html for more information about the Goldwater Scholarship.