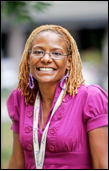 Between 1.6 and 2.8 million American youths run away each year. Of those runways, one out of every three children will be lured into prostitution within 48 hours of leaving home according to the National Runaway Switchboard.
It may be hard to imagine that sex trafficking exists in Iowa, but Tina Frundt, founder and executive director of Courtney's House in Washington D.C., says it's happening in "our own backyard."
In an effort to educate the community, Drake University has invited Frundt to deliver a lecture as part of its Engaged Citizen Series. Her lecture, "In Our Own Backyard: Sex Trafficking in Iowa," will take place on Tuesday April 29 at 7 p.m. in Parents Hall of Olmsted Center, 2875 University. The lecture is free and open to the public.
Frundt is a leading figure in the crusade to help children who have been sexually exploited for commercial purposes. She is a survivor of domestic sex trafficking and now dedicates her life to helping women and children heal from domestic sex trafficking and commercial sex exploitation.
Frundt founded Courtney's House in August 2008 after realizing there was no specialized housing available for sex trafficked children in Washington, D.C. Since its inception, Courtney's House and Frundt have helped over 500 victims escape from being trafficked. She also trains law enforcement and nonprofit groups to rescue and provide resources to victims.
This event is sponsored by Drake's Concentration in Leadership Education And Development (LEAD) and the Chrysalis Foundation.
For more information, contact Thomas Westbrook at thomas.westbrook@drake.edu or 515-271-3078.
About the Engaged Citizen Series
This Engaged Citizen Series is part of the Engaged Citizen Experience, which aims to prepare students for responsible global citizenship. Through engaged citizen courses and programming, students learn to evaluate the mix of diverse values and interests that influence democratic decision-making, leading them to be active stewards working for the common good of local, national and global communities.