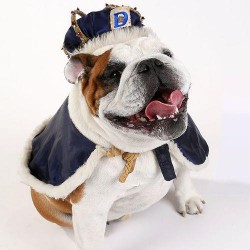 Spring has sprung on Drake's campus, and that can only mean one thing: Drake Relays is right around the corner, and so is Drake's beloved Beautiful Bulldog Contest.
Think of it as the Westminster Dog Show—with much more doggy drool, celebrity impersonations by pups, elaborate dog/owner costumes, and a pageant exclusively consisting of English bulldogs.
When the event originated 35 years ago, it was the first of its kind and continues to be the model for imitators across the country. This year's contest will take place on April 21 at the Drake University Knapp Center. Judging will begin at 10:30 a.m. with the contest to follow at noon. The contest will be broadcast live online at www.drake.edu/relays.
The Beautiful Bulldog Contest was the brainchild of Drake legend Dolph Pulliam. When Pulliam retired last spring, Drake was determined to see the popular event continue.
Michael Cigelman, associate athletic director at Drake, and his wife, Susan, took leadership of the contest and developed a committee to oversee the planning and facilitation of the event.
"When Brian Brown asked us to be co-directors of the contest we enthusiastically accepted for several reasons," explains Michael Cigelman. "We love dogs and we love Drake. I have worked at Drake for 28 years. We both have graduate degrees from here, and we met here. We're both huge supporters of the Drake Relays and the Beautiful Bulldog Contest, having attended many times."
The committee began meeting late last fall, excited to build on what they already considered a great event. The contest has a history of attracting participants from across the country and is known for receiving national media attention year after year.
New to the 2014 contest is the location: This year's event will take place in The Knapp Center. Michael Cigelman says hosting the contest in a new location will bring an exciting energy to the event.
"We felt that having the contest in The Knapp Center this year would help to affirm the commitment by the University to raise the level of the Beautiful Bulldog Contest," Cigelman says. "Both Susan and I hope that the Beautiful Bulldog Contest will be a vehicle to help increase the visibility of Drake University and the Drake Relays as well as raise awareness of bulldog rescue organizations."
Despite new leadership and location, the spirit of the event remains the same. And once again, organizers have partnered with a number of bulldog rescue organizations, including the Illinois English Bulldog Rescue, Furry Friends Refuge, the Humane Society of Perry, Animal Lifeline of Iowa, and AHeinz 57 Pet Rescue and Transportation.
"The contest is a powerful tool for helping raise awareness about the University's mascot, the English bulldog," says Michael Cigelman. "We hope the event can help improve the quality of life and health of many bulldogs that desperately need help."