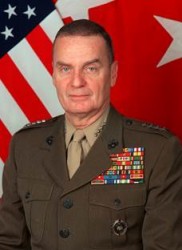 Drake University's Principal Financial Group Center for Global Citizenship (PFGCGC) will host a discussion on the Keystone XL Pipeline initiative in collaboration with the Iowa Energy Forum. General James Jones, a former national security advisor, will discuss the benefits of the pipeline initiative, including more jobs, less dependence on foreign oil, and cheaper energy costs for Americans. He will answer questions at the end of his lecture.
"With current global uncertainty and turmoil in oil and natural gas producing regions, American needs to do what it can to increase and promote North American energy production," says Jones. "The Keystone XL Pipeline will accomplish this."
The pipeline runs from Canada through Texas and will offer a safe way to transport oil as an alternative to tanker trucks and rail transportation. The fourth phase of the project is currently awaiting U.S. government approval. If approved, The Keystone XL Pipeline will transport 850,000 barrels of oil per day.
The initiative is currently awaiting approval from President Obama before it enters its fourth phase of completion. The pipeline will create thousands of jobs and is predicted to generate $34 billion in U.S. government revenue.
The event is part of the Principal Financial Group Center for Global Citizenship Spring 2014 Speaker and Film series. The Center was created to educate students on global issues and perspectives. All events in the series are free and open to the public.
WHAT: Discussion with former National Security Advisor, General James Jones on the benefits of the Keystone XL Pipeline
WHEN: Tuesday, April 22, 2014 at 2:30 p.m.
WHERE: Drake University's Sussman Theater, Olmsted Center
For more information, contact David Skidmore at david.skidmore@drake.edu or 515-271-3843.