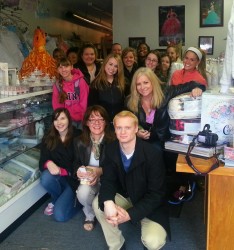 On Monday, April 14, the Drake University Community Press will present "Writing With: A Campus-Community Publishing Partnership," to celebrate publication of its first book. The event is free and open to the public and will begin at 7 p.m. in the Cowles Library Reading Room.
The book, The Ones I Bring With Me: Los Que Llevo Conmigo: Iowa's Young Latinas on Education, Identity and Success, compiles the stories of the girls involved in Latinas al Exito. The organization provides mentorship opportunities to young Latinas with a focus on educational achievement.
"The women in Latinas al Exito may be young, but their stories are full of wisdom and surprise," says Lepperd. "These stories will make you feel and think, and hopefully they will create a space for conversation."
The creation of this book has been a unique venture involving cross-disciplinary curriculum and civic partnership.
"Working on this book has been very exciting," says Kelsey Lepperd, who has served as a senior intern for the project. "As the first book to come out of the Drake Community Press, we were doing everything for the first time. We relied on outside resources and materials to help construct the project."
For more information, contact Carol Spaulding at carol.spaulding@drake.edu or 515-271-3969.
About the Drake Community Press
The Drake Community Press produces full-color, illustrated editions serving a community readership on issues of concern to Iowans; partners with Iowa organizations to promote positive interaction and community betterment; and provides students with practical knowledge of book editing and production with a cross-disciplinary and collaborative focus.