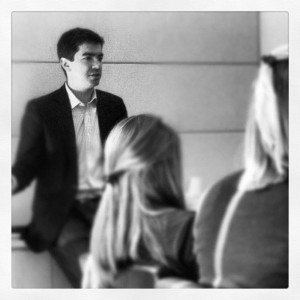 The annual networking trip to New York City for magazine majors begins Wednesday, April 9. The group of seven students and their fearless leader, Professor Jeff Inman, will have some time to explore New York before heading back home on Sunday, but the highlight of the trip is a busy schedule of publication-hopping on Thursday and Friday.
The schedule is developed to give students access to the vast diversity of communication types and platforms that magazines utilize today.
Here's the schedule of visits (comfortable shoes highly recommended!):
Thursday
Meredith Corporation Original Video Production
Parents Magazine
Entertainment Weekly
InStyle
Gold Magazine/Sports Illustrated Golf Group
New York Daily News
Refinery29.com
Friday
Martha Stewart Social Media
Fast Company
Cosmopolitan
Esquire
Woman's Day
Drake's fabulous journalism alums, especially the magazine graduates, are at the heart of trip planning each year. As a thank-you, a special gathering for Drake journalism alums in the New York area will take place Thursday night.