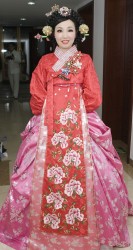 A vocal performance from Han Changmei, a visiting professor of music from Minzu University of China in Bejing, and Drake University music students will take place on Thursday, April 10 at 7:30 p.m. in Sheslow Auditorium. The concert is free and open to the public.
Han is a nationally renowned performer and instructor of traditional Chinese song. Her performance will include a selection of traditional Han Chinese and ethnic minority songs.
Han is visiting Drake as part of Drake and Minzu's faculty exchange program. Select Drake voice students, who have prepared traditional Chinese songs with Han, will also be performing at the concert. The students involved are: Jessica Richter, Samuel Nolte, Samuel Hagen and Danielle Peters
"The students and faculty of Drake's Music Department and Minzu University's College of Music have gained so much from each other through the exchange program," says Kirk Martin, director of the Chinese Cultural Exchange Program at Drake University. "Professor Han's visit to our campus this year has allowed our students, faculty, and the greater Des Moines community to experience and learn about the great variety of cultural traditions of China expressed through vocal performance."
Han will also be featured in an event on April 11. The event, which is free and open to the public, is titled "Vocal Traditions and Music Education in China, " and will feature both Han and Wen Hongxuan, associate professor of solfeggio and composition at Minzu University. The two will share commonly taught musical traditions and models of music teaching in China. Han will provide demonstrations. The event will be held at 12 p.m. in Harmon Fine Arts Center, Room 204.
These events are sponsored by the Chinese Cultural Exchange Program, Drake's College of Arts and Sciences, and the Drake music department.