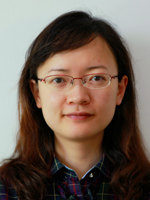 On Monday, March 31, Xiao Chengli, visiting associate professor of psychology from Nanjing University, will hold a public lecture on the perceptions of time across cultures. The lecture, which is free and open to the public, will begin at 6 p.m. in Meredith Hall, Room 106.
Knowledge of Chinese culture is becoming increasingly vital to a wider American audience. Perceptions of time greatly affect how people of different cultures see each other and work together. This difference is clearly seen when looking at the United States and China. This lecture will use entertainment media as a means to provide insight into the difference in cultural understanding between China and the United States.
"It's said that America doesn't have a past and China doesn't have a future," says Xiao. "Supporting evidence of this claim can be seen in the prevalence of science fiction in American movies and TV shows, and of historical drama in China."
This lecture will show examples of popular Chinese movies and televisions shows and provide insight into how American entertainment portrays the United States mindset to a Chinese audience.
The lecture is sponsored by the Chinese Cultural Exchange Program, the College of Arts and Sciences, and the School of Education.
For more information, contact Kirk Martin at kirk.martin@drake.edu or 515-271-3035