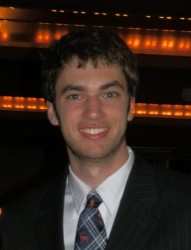 Adam Riesselman, a senior studying biochemistry, cell & molecular biology with a minor in computer science at Drake University, attended one of Washington D.C.'s most exclusive events on March 25—the unveiling of a statue depicting Norman Borlaug. The statue in National Statuary Hall is one of two depicting important Iowans in the hall and commemorates Borlaug's commitment to addressing world hunger through scientific research. That research led to what is known as the Green Revolution and has been estimated to have saved over a billion lives through the development of more productive and disease resistant crops.
Among the approximately 300 invited guests are Bill Gates, Secretary of State John Kerry, Secretary of Agriculture Tom Vilsack and numerous legislators, Riesselman received an invitation to attend the event from the World Food Prize, which was created by Borlaug in 1986.
Riesselman's work with the World Food Prize began as a sophomore in high school when he worked on a research paper for the organization on conflict resolution in Colombia with biofuels. During his senior year of high school, Riesselman wrote for the World Food Prize again, and attended the Global Youth Institute in Des Moines, where he was selected for a Borlaug-Ruan internship in Mexico. Since arriving at Drake, Riesselman has remained involved with the organization, landing additional internships and finding time to volunteer.
In 2013, Riesselman was one of two Drake students to receive the prestigious Goldwater Foundation Scholarship. The scholarship is for students pursuing careers in mathematics, natural sciences, and engineering.
Riesselman's trip to Washington, D.C. was made possible through generous funding from Drake's College of Arts and Sciences.