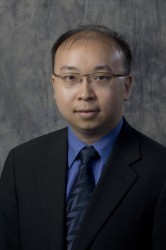 On March 17, the Panel on Commerce and Industry of the Hong Kong Legislative Council held a meeting to address the government's discussion paper on upcoming digital copyright reform. Several lawmakers questioned the government's position, relying on the proposal and publications of Peter K. Yu, professor of law and Kern Family Chair in Intellectual Property Law at Drake University Law School. His analysis of the government's paper was also introduced into the meeting record.
Last fall, Yu participated in the government's public consultation on the treatment of parody under the copyright regime. He submitted a position paper advocating the introduction of a new copyright exception for predominantly non-commercial user-generated content, such as homemade videos commonly found on YouTube. The paper was developed with the assistance of three Drake Law students: Timothy Alberts, La'Cee Groetken, and Kyle Mendenhall.
Since submitting his proposal, Yu has written opinion pieces in Chinese and English explaining why the proposal is expedient and viable. One of these pieces was recently published in the South China Morning Post, a leading English newspaper in Asia. His new article, "Can the Canadian UGC Exception be Transplanted Abroad?", is also forthcoming from a symposium on user-generated content organized by Osgoode Hall Law School at York University in Canada.
"The proper treatment of user-generated content is increasingly important to Internet development—in both the United States and elsewhere," Yu explains. "What our proposal seeks to achieve is to provide a balanced legal solution to help Internet users maintain their creative and communicative space while at the same time protecting the important economic interests of authors and copyright holders."
Born and raised in Hong Kong, Yu is a world-renowned expert in international intellectual property law. He serves as the founding director of the Drake Intellectual Property Law Center. He has testified before the U.S. International Trade Commission and is currently the general editor of The WIPO Journal published by the U.N. World Intellectual Property Organization.
In the past six years, peer surveys conducted by U.S. News and World Report have continuously ranked the Drake Intellectual Property Law Center among the top 25 intellectual property law programs in the United States. Most recently, the center launched the LL.M./M.J. Program in Global Intellectual Property Law, a unique graduate law program that aims to train transnational intellectual property lawyers and professionals.
For more information, contact Peter Yu at peter.yu@drake.edu or 515-271-2948.