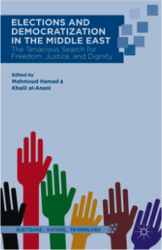 Mahmoud Hamad, assistant professor of politics, recently co-edited, "Elections and Democratization in the Middle East: The Tenacious Search for Freedom, Justice, and Dignity," a book that explores the background and impact of elections in the Middle East.
For decades, elections in many parts of the Middle East were a forgone conclusion. They came and went with little fanfare, as many knew that results were predetermined in the offices and corners of state security buildings in Cairo, Damascus, Tehran, and Tunisia. The Arab uprisings have created change. As of recent, voters have flocked to the polls to cast their votes and choose their rulers. This book explores the dynamics of elections in the Middle East and their impact on democratization processes, providing a comprehensive overview of the entire region through case studies and examples, aiming to further understanding of democratization.
Hamad joined the Drake faculty in 2008. He has experience teaching and researching Middle Eastern politics, comparative judicial politics, civil-military relations, and religion and politics. He earned his B.A. and M.A. in political science from Cairo University, Egypt, and his Ph.D. from the University of Utah. During his graduate studies, Hamad was selected as a Fulbright Scholar twice.
Visit http://us.macmillan.com/electionsanddemocratizationinthemiddleeast/MahmoudHamad for more information on his book.