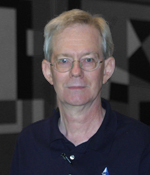 The School of Journalism and Mass Communication is hosting an open house in Meredith Hall on Saturday, April 26, 4-6 p.m. There will be a cash bar and free snacks. The open house during last year's SJMC reunion was so much fun and such an overwhelming success, it may become an annual event!
This will also be a retirement reception for John Lytle, Ellis and Nelle Levitt professor of broadcast journalism. Lytle is retiring in May after 37 years on the Drake faculty.
Stop by to thank Lytle for his years of service to the SJMC and wish him good luck and happiness in retirement! If you can't make it back to campus, please send best wishes to John in care of SJMC Director Kathleen Richardson at kathleen.richardson@drake.edu.
See alumni.drake.edu/SJMC2014 for directions on how to RSVP so we are sure to have enough food and drink.