By Jeff Inman, Assistant Professor of Journalism, Drake University
AUSTIN, TEXAS – They call it Nerd Spring Break for a reason. Every March social media junkies, venture capital gurus, scruffy bearded programmers and would-be Mark Zuckerbergs all converge on downtown Austin for South By Southwest (SXSW) Interactive.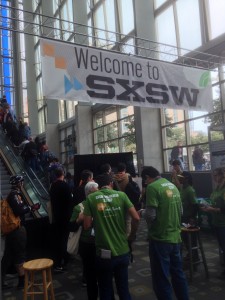 While the annual SXSW convention covers more that the tech industry—there's also an education, film, and, most famously, a music convention running nearly simultaneously—the Interactive portion grabs the lion's share of the press. It's the convention of the future—or what the geeks of the world wish it would be. It saw the launch of Twitter. It helped make social media guru Gary Vaynerchuk famous. It even brought together Vice President Al Gore and Napster founder Sean Parker.
Last year's convention boasted over 30,000 paid attendees. Predictions for this year's SXSWi (March 7-16) are trending even higher. And while the long lines, odd sidewalk marketing, and endless dash for free beer provide plenty of distraction for convention goers, it's the panels that truly matter. Here are some of my top picks for the weekend.
"Online Lego Fans and the People Who Love Them": Sure, it's a panel about adult Lego fans. But it is also a panel about how to deftly balance brand values and messaging with a rabid and devout fan base in an ever-expanding online community. This is content marketing at its greatest.
"I'm Not a Designer: Accepting the Designer Label": User experience dominates the tech lexicon these days. It's also often seen as the designer's responsibility. Avanade Inc. UX Architect Morgan Burton will talk about accepting the title of designer even though UX design should be everyone's responsibility.
"A Virtual Conversation with Julian Assange": Admittedly, a Skype interview with Wikileaks founder Assange could go quickly off the rails. But with the NSA always watching and online privacy becoming even more of a concern, Assange's views on the world seem less anarchistic and more prophetic by the day. Though, for the record, he's still weird.
"Print is Amazing (…ly Profitable)": OK, that title alone should catch a journalist's eye. But presenter Ane Marie Gardner, CEO and Founder of "Modern Farmer" magazine, actually has the experience—and the business model—to back it up. And with the launch of other new high-profile mags like "Dr. Oz," "AllRecipes.com," "Politico" and "Pitchfork," she's not alone.
"Dive into Social Media Analytics": Pulling meaning from metrics isn't easy. Even seasoned social media marketers and editors have difficulty interpreting all the numbers. With a panel stocked with analytics experts, this session will 

provide some solid tools to see the story in the data. 
Related articles: 
SXSW Day 1: Embracing the "Scene-ius"
SXSW Day 2: Here comes the future, whether you want it or not