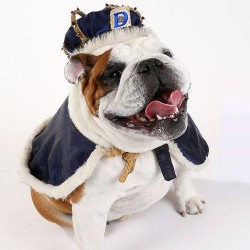 Don't miss the opportunity to register your English bulldog for the 35th Annual Beautiful Bulldog Contest at Drake University. A lottery to select 50 participants and five alternates will take place on Tuesday, March 25 at 6 p.m. on the Pomerantz Stage in Olmsted Center, 2875 University Ave.
Advance registration is required to participate in the lottery. The deadline to register is Monday, March 10 at 4 p.m. No walk-ins or phone entries will be accepted. Visit www.alumni.drake.edu to complete the registration form.
The lucky lottery winners will participate in the 35th Annual Beautiful Bulldog Contest on Monday, April 21, at the Knapp Center. Judging will begin at 10:30 a.m. with the pageant to follow at 12 p.m. The event is free and open to the public.
This Drake University tradition receives national attention every year. When the contest originated, it was the first of its kind in the nation and continues to be a model for imitators from several states.
The winner of the contest—who gains serious bragging rights complete with a cape and crown—will appear before more than 16,000 fans at the 2014 Drake Relays to officially be recognized as the 2014 Drake Relays mascot.
For more information, contact Mike Cigelman at 515-271-3810 or michael.cigelman@drake.edu.