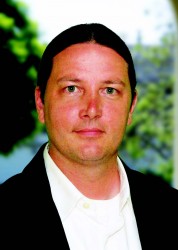 On Thursday, March 6, Louis Komjathy, assistant professor of Chinese relations and comparative religious studies at the University of San Diego, will deliver the lecture, "'Names are the Guest of Reality': Apophasis, Mysticism, and Soteriology in Daoist Perspective." The lecture, which is free and open to the public, will begin at 7:30 p.m. in the Cowles Library Reading Room on Drake University's campus.
This lecture will examine Daoist uses of "apophatic discourse" and "grammars of ineffability," or the way in which (apparent) negation is central to Daoist approaches. In addition to providing a foundational introduction to Daoism, Komojathy will explore Daoist meditation and mystical experience, with attentiveness to representative modes of expression and description.
Komjathy is a leading scholar of Daoism (Taoism) with particular interests in contemplative practice and mystical experience. He has published widely on the Daoist religious practice, including the recent The Way of Complete Perfection (State University of New York Press, 2013) and The Daoist Tradition: An Introduction (Bloomsbury Academic, 2013). Additionally, Komjathy is a founding co-director of the Daoist Foundation, a nonprofit religious and educational organization dedicated to fostering authentic Daoist study and practice.
The Comparison Project is generously supported by the Drake University Humanities Center, Humanities Iowa, the Medbury Fund, The Principal Financial Group Center for Global Citizenship at Drake University, the Des Moines Area Religious Council, and Cultivating Compassion: The Richard Deming Foundation.
For more information on The Comparison Project:
• Website: www.comparisonproject.wordpress.drake.edu
• Email: comparisonproject@drake.edu
• Facebook: Comparison Project at Drake University
• Twitter: @drakecomparison