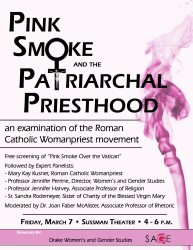 On Friday, March 7, the Drake University Women's and Gender Studies program will host "Pink Smoke and the Patriarchal Priesthood" to explore the role of gender in the Catholic Church.
The event, which is free and open to the public, will include a film screening of the acclaimed documentary, "Pink Smoke Over the Vatican," followed by a panel discussion, beginning at 4 p.m. in the Sussman Theater of the Olmsted Center, 2875 University Ave.
Joan Faber McAlister, associate professor of rhetoric at Drake University, will serve as panel moderator. The panelists are:
• Mary Kay Kusner, Roman Catholic woman priest
• Jennifer Perrine, director of women's and gender studies and assistant professor of English at Drake University
• Jennifer Harvey, associate professor of religion at Drake University
• Sandra Rodemyer, Sister of Charity of the Blessed Virgin Mary
Attendees will have the opportunity to submit questions to the panel.