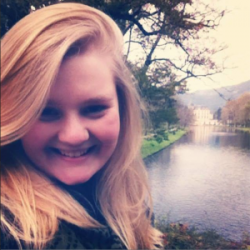 Madeline Goebel, a sophomore studying international relations with a focus in African studies, will travel to Yaoundé, Cameroon, off the west coast of Africa this spring to participate in an Independent Study Project through an organization called SIT World Learning. Her research will focus on microfinance in Cameroon.
"I have wanted to travel to an African Francophone nation since I was a junior in high school, and I am so excited to finally be able to have this experience," says Goebel, who is interested in pursuing a career in international business. "I am looking forward to pushing myself into new experiences both as a student in the classroom as well as socially."
Thanks to a generous pledge to distinctlyDrake made by Kathleen, LA'76, and Larry, BN'73, GR'79, Zimpleman, an endowed fund in support of global experiential learning was established in the Zimplemans' name. Goebel and four other students in need of financial assistance are already benefiting from the scholarship.
"We are very grateful to Kathi and Larry for this transformative gift," says Drake University President David Maxwell. "They have a very powerful commitment to Drake's mission to graduate engaged global citizens, and a clear vision of the ways in which we can use these resources to create life-changing opportunities."
Providing students with hands-on experiences is a valued aspect of the Drake Curriculum. Equally important is helping students understand what it means to be a responsible global citizen. New scholarships like the Zimpleman Global Experiential Learning Scholarship help Drake fulfill its promise to students.
Drake University provides global experiential learning opportunities to immerse students in activities that help them understand a new culture in a stimulating setting. These experiences at businesses, health facilities, schools, and other locations allow students to engage with communities that are different from their own, helping them better understand the world and their role in it.
"These kinds of experiences are really valuable in shaping career directions, graduate study, and vocations for these students," says Gretchen Beckley, director of international programs and services. "The Principal Financial Group and other globally engaged companies are interested in hiring people who have had hands-on global experiences."
Riley Willman, a sophomore studying international relations, is also benefiting from the Zimpleman fund and will be traveling to Italy this spring to work with an organization called Cestas on various public health projects. Additionally, Willman will have the opportunity to participate in an English as a Second Language (ESL) program where she will help local children and adults improve their literacy skills.
"I am an international relations major and have never been outside of the U.S., so to have the ability to become fully immersed in another culture different than mine is something I'm really looking forward to," says Willman. "I'm so grateful for this opportunity."