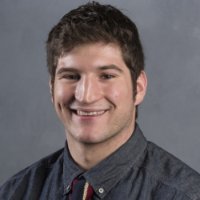 If you were lucky enough to attend a Chicago Bears game at Solider Field this season, you saw firsthand the video editing work of Cameron Good.
Good, JO'13, was hired as seasonal video editor for the Chicago Bears in 2013, and his content airs on the video boards during every home game.
Working for the Chicago Bears is not, however, Good's first experience in the world of professional sports. In the summer of 2012, he interned for the Cleveland Cavaliers, and, despite knowing no one in the area, he took advantage of the opportunity.
"What I tell people all the time is that at some point you have to take a risk because it'll help you eventually get into what you want to do," says Good.
His courage paid off, and not long after his internship in Cleveland, Good saw an opportunity open up in his hometown with his longtime favorite team, the Chicago Bears.
Working as a seasonal video editor, Good creates content that includes team highlights, 3-D motion graphics, and one-on-one interviews with the players and coaches.
One of Good's favorite memories from the 2013−2014 season was editing the tribute video for Bears legend Mike Ditka, which aired during a halftime jersey retirement salute at December's game against the Dallas Cowboys.
"It was amazing to have Mike Ditka be at that podium during the halftime ceremony and have him, along with hundreds of thousands of other people, looking at my video on the board," says Good. "A team doesn't retire someone's jersey every year, and for it to be the Chicago Bears and Mike Ditka was just unbelievable. I've been a huge fan of his for years."
Good attributes his early success to his time at Drake, highlighting his involvement with broadcasting the Drake Relays as a defining experience that gave him a leg up when looking for professional opportunities. He says he also benefitted from Drake's intimate campus environment.
"I'm still in contact with my journalism professors because the small class sizes allowed me to build a relationship with them," says Good.
He also stresses the value of opportunities for campus involvement, which helped him find a passion for what he loves to do.
"The experiences I had at Drake—with the Drake Football Team, my social fraternity, and in Drake Broadcasting Systems—allowed me to find my passion and become a leader," says Good. "I love making videos, but I've discovered my true passion is helping others. That's something I learned through Drake and something I know will be with me forever."