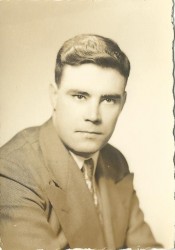 The Internet can be a treasure trove of cat videos, celebrity gossip, and photos of today's lunch. But among the frivolity, deeply human exchanges emerge—the sharing of experience and wisdom that may have never surfaced if not for the curiosity of Web surfers around the world.
Such is the revelatory connection that Robert Wayne Heideman, LA'49, made with thousands of users of the Internet forum Reddit last year. At age 88, Heideman held a candid question-and-answer session that touched on his childhood in Des Moines, his studies at Drake, and most prominently his experiences as a U.S. Marine fighting in the Pacific during World War II. He had no prior knowledge of Reddit—isn't much of an Internet user, in fact—but he knew it was time to share his long-held memories.
"I didn't like Adolf Hitler and what he did to a great people," says Heideman. "People should know about this history."
It all started with a simple posting. "I quit high school to fight in the Pacific during WWII. I'm fortunate to be alive at 88. AMA," wrote Heideman, using the Reddit community's shorthand for "Ask Me Anything." Within minutes he received hundreds of questions; in the course of just one day the chat thread garnered more than 25,000 "upvotes"—positive user engagements that serve as social currency to elevate popular content.
The veteran shared stories from his military service, memories of a Medal of Honor recipient, current attitudes toward former enemy nations, and post-war adjustment to civilian life. Answers ranged from brief and general to in-depth and personal—including a harrowing story he'd never shared before, even with his children.
"I was reconnoitering an area," remembered Heideman. "Myself and one platoon commander and an operations officer were in a chopper…that the Marine Corps was phasing out because they had a bad history of accidents with it—a KARMAN. The chopper pilots were afraid to fly it. There was a fire, but we [regained stability]. I heard over the intercom, the pilot was saying, 'This is how you get killed in a chopper.'"
The pilot eventually recovered and all passengers survived.
Heideman served in the Pacific with the 12th Marine Regiment, an artillery unit of the 3rd Marine Division. He found himself alongside a merry band of soldiers, including a fellow serviceman who was raised in a family of circus acrobats. The memory occasioned a funny story:
"This guy, in the gun pit, where we were firing long guns… This guy used to get on top of the rammer (the long pole shoved into the breech), and he'd stand on his head on it," recalled Heideman.
Firsthand accounts of World War II are increasingly rare as memories fade and veterans pass away. The Veteran's Administration estimates there are only approximately 1.2 million veterans remaining of the 16 million who served the United States during the War, and by 2036 there will be no veterans left to recount their experiences. Like many veterans, Heideman had been reticent about sharing his war experiences—and for him, seeing the overwhelming public interest made him more comfortable speaking out.
"It was a great way to get him to talk about these things," says his daughter, Renee Murray, who introduced her father to Reddit and its AMA format and assisted with his responses during the chat session. "He is one of those who kept most of [his war experiences] inside."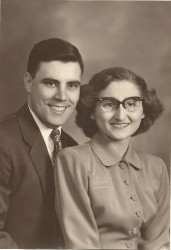 Heideman had a thing or two to teach about forgiveness, as he relayed a lack of resentment toward the nations and people who had previously been enemies in combat. Readers were amazed to hear Heideman temper his opinion toward the atomic bombs with history of the firebombing of Tokyo. He said the destruction caused by the air rides on Tokyo was at least as severe as that of the atomic blasts in Hiroshima and Nagasaki.
"I…did not know this," one reader commented.
The conversation held pleasant surprises for Heideman as well. At one point, he mentioned the address of the house in which he grew up, along 23rd Street in Dogtown. Someone quickly posted a photograph of the house as it stands today—a small green two-story with burgundy shutters.
"For crying out loud," he responded. "It was white when I lived there, but the same, without the white picket fence out front."
Later the conversation hit home again, this time with a more tragic memory. It involved Warren Sulser, a lifelong friend and classmate from Dowling Catholic High School.
"Warren died in the war," wrote Heideman. "We went to school together for 12 years. We played together, and he lived across the street."
After the war, Heideman attended Drake University on the GI Bill to study political science. It was at Drake that he met his wife, Lorraine (Koenig) Heideman, ED'50.
"She was in a sorority, and she didn't have a date for a dance," remembers Heideman. "She was Catholic, and some of her friends told her, 'There's a nice Catholic boy we know.' So they fixed us up."
Their marriage lasted more than 60 years, until Lorraine passed away in May 2013.
After Drake, Heideman worked at a variety of insurance companies in Iowa and Wisconsin. He also served in the Marine Corps Reserve, and was called back to active duty during the Korean War. Lorraine Heideman pursued a lifelong career as an elementary school teacher. They raised seven children together.
If he could do it all over again, someone asked, what about his life would he change?
"I would change nothing," he responded. "If it were different, I might be in worse shape. You have to leave it to the Lord."