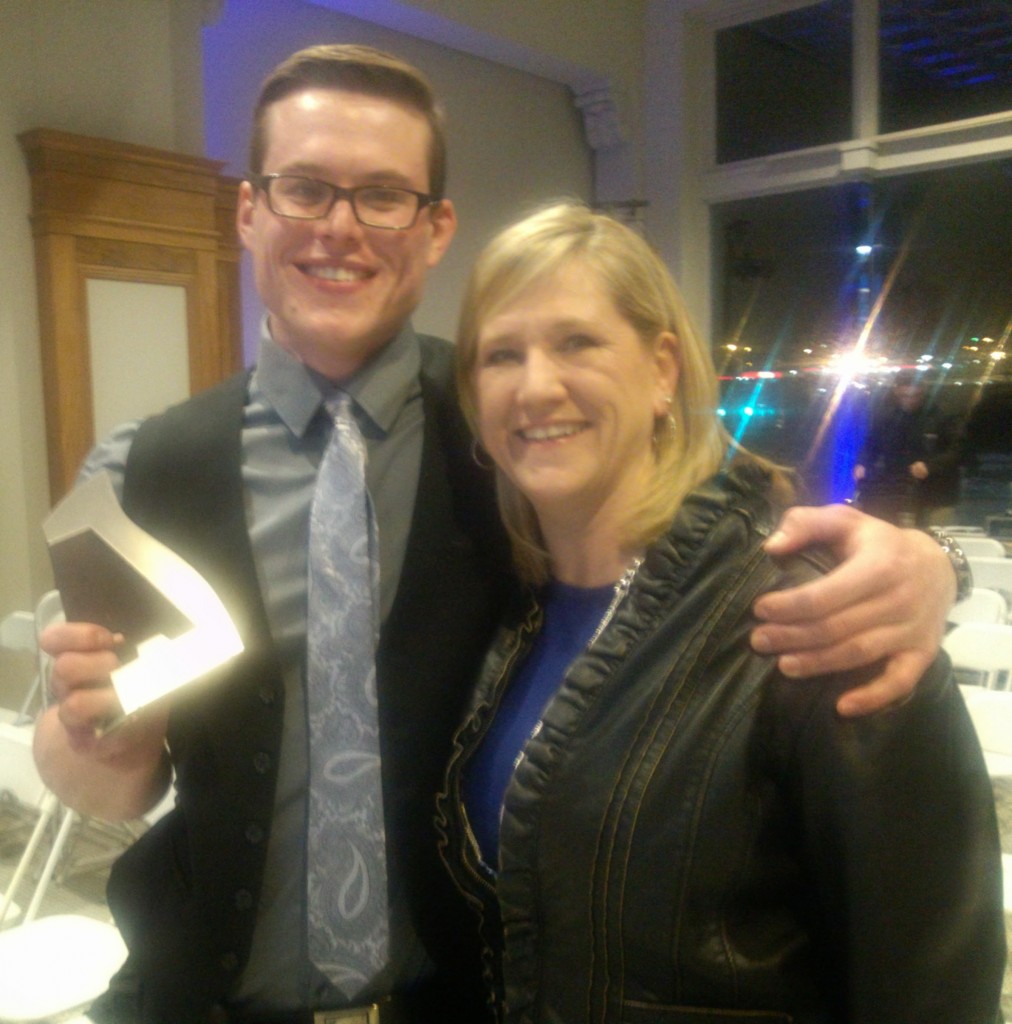 SJMC Senior Sean Hall received a Gold ADDY and the Student Best of Show award at the annual American Advertising Federation of Des Moines American Advertising Awards show, held February 22.
Hall's entry, a TV spot for Tone's Spices, "A Dash A Day," was created as part of a project in JMC141 – Advertising Creative Strategies. Associate Professor Sandy Henry suggested that Hall enter the competition.
"As soon as I saw it, I knew it had a good chance to win," she said. "The timeline was really tight – he had only three days to prepare and deliver the entry, and it was during final week – but he did it and I'm pretty sure he thinks it was worth the rush."
He does. "I'm so excited," he said via email. "I can't believe I won Best of Show."
After the presentation, advertising professionals approached both Hall and Associate Professor Dorothy Pisarski with congratulations.
"We received praise from numerous agency folks about the quality of our recent graduates," said Pisarski. "Three different [professionals] told me to forward Sean's contact information so they could reach out to him."
As a Gold ADDY winner, Hall's entry will automatically be forwarded to the next level of ADDY Competition, where he will face regional competition. Fewer than 10% of the student entries received the Gold designation.
In Other ADDY News…
Drake alum Louis Laurent, CEO of ZLR Ignition and member of the SJMC National Advisory Council, won the Silver Medal Award, given to a seasoned professional who has made outstanding contributions to advertising, furthering the industry's standards, creative excellence and responsibility in areas of social concern in the Des Moines ad community.
2011 graduate Lydia Metzger won the Rookie of the Year award, given to a young professional who has worked to forge a career as well as giving back to the professional association. This is the third consecutive year that a Drake alum won this particular award.
Finally, while not quite alumni yet, winners of the Fall 2013 GRiT Student Seminar competition were presented onstage. Drake students Kaitlyn Gehringer and Jack Jacques represented the winning team.