The Drake University Department of Theatre Arts will present All New People and Extremities, directed by Drake theatre majors Matthew Schultz and Cameron Reeves respectively.
All New People, directed by Matthew Schultz, will be performed Feb. 27 at 7:30 p.m., March 1 at 7:30 p.m., and March 2 at 2 p.m. Extremities, directed by Cameron Reeves, will be performed Feb. 28 at 7:30 p.m., March 1 at 2 p.m., and March 2 at 7:30 p.m. Both shows will take place at Studio 55, located in Drake University's Harmon Fine Arts Center.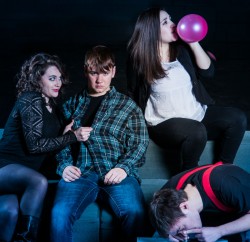 All New People
This contemporary comedy tells the story of Charlie, who has hit rock bottom and is ready to commit suicide until an eccentric crew of misfits stops by to interrupt his pity party. A beauty, a fireman, and an eccentric British real estate agent all find themselves together in a dismal beach house, but what ensues is a representation of attempted suicide that is filled with humor and unexpected friendships.
"The actors have the challenge of creating characters in an unfamiliar environment, but everyone makes mistakes and goes through tough times. We get to explore how these characters pull through that," says Schultz.
Extremities
Extremities follows Marjorie, a young woman struggling with a major decision. After managing to turn the tables on would-be rapist Raul, Marjorie has to decide whether to turn him over to the police or plot her own revenge.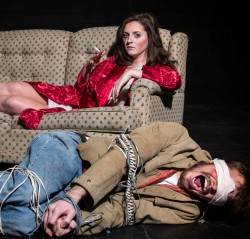 "In light of the resurgence of vocal feminism, it's an honor to direct a play that speaks to the survivors of sexual assault, and yet, challenges the views of modern society," says Reeves. "It's also a fascinating look at how the personal can be political through a very controversial, yet accurate portrayal of the way women can victim blame other women."
Both shows contain strong language and adult situations.
Tickets are $5 for adults, $3 for students and seniors, and $1 with valid Drake ID. Reservations may be made in person or by calling the Drake Fine Arts Box Office at 515-271-3841.