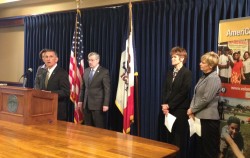 At a press conference on Monday, Feb. 17, Governor Terry E. Branstad signed Executive Order 84 to create the Governor's Council on National Service in Iowa.
Led by the Iowa Commission on Volunteer Service, the council includes leaders from state agencies, higher education, and the private sector to make recommendations on how to expand national service for Iowans.
The Governor's Council on National Service in Iowa will complement the national initiative, the Franklin Project, which is working to awaken a new citizenship in the country.
At the press conference, Drake University was invited to announce its plans to develop a national service program to provide students a post-graduate experience serving at Des Moines area nonprofits.
"I believe colleges and universities have a duty to not only produce productive employees, but also engaged and productive citizens," says Maxwell. "Drake's mission is to provide an exceptional learning environment that prepares students for meaningful personal lives, professional accomplishments, and responsible global citizenship."
Drake University has been participating in a national higher education working group with the Franklin Project to explore best practices for higher education to develop national service opportunities. The development of this program will align with Goal IV of the Drake University Strategic Plan.
Drake has also developed a new project called the STEM Pathway, matching Drake mentors with low-income Des Moines Public School students to create a pipeline to higher education and high-demand occupations.
"We want all students to know they can dream about going to Drake," says Maxwell. "The STEM Pathway project will include engaging national service members including an AmeriCorps VISTA and Iowa College AmeriCorps members."
For more information on service-learning at Drake, contact Amanda McReynolds at amanda.mcreynolds@drake.edu or 515-271-1834.