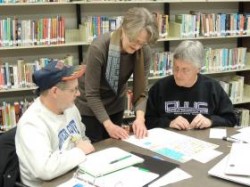 The Adult Literacy Center (ALC) at Drake University is the recipient of a $5,000 grant from the Gannett Foundation, which supports local organizations in communities that are served by Gannet Co., Inc. The grant will help the Adult Literacy Center sustain and expand its reach in the Des Moines metropolitan area.
Since 1976, volunteer tutors at the ALC have worked one-on-one with adults who are interested in improving their literacy skills. Adults with low literacy skills is a hidden issue that affects all aspects of community life including health, employment, social services, mental health, and children's education.
"Adults who need literacy services may be folks who used to be the family breadwinner, but lost their job," says Anne Murr, director of the Adult Literacy Center. "Or, it may be a parent or grandparent who can't read the prescription or safety instructions to nurture themselves or their children. They might not be able to help their children with homework, or read aloud in Bible study or at other community or work functions. We help them improve their literacy skills and their self-esteem."
Adult learners come to the program with reading levels ranging from pre-reading to approximately fourth grade. More than 100 adults receive literacy services each year from the ALC. Currently, 80 adult students are being tutored with many others on the waiting list.
For more information, contact Anne Murr at 515-271-3982 or anne.murr@drake.edu.