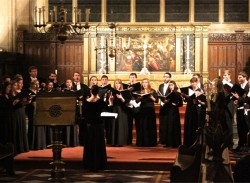 Drake's Chamber Choir, the most select of the University's four choruses, is currently touring England January 10–22, where they are singing at St. Paul's Cathedral and St. Martin-in-the-Fields in London. In addition to inaugurating the American Embassy's new performing arts series, the chorus will also perform at the cathedrals of Gloucester, Ely, and Coventry, as well as perform at Merton College Chapel at Oxford University and St. John's College Chapel at Cambridge University.
The choir is comprised of students majoring in a variety of academic disciplines, and the group has appeared in major venues in Italy, Austria, Germany, the Czech Republic, Wales, and Ireland, as well as in the United States. Additionally, the choir is the featured ensemble for Drake's Christmas madrigal dinners and was selected by audition to perform for the conference of the American Choral Directors Association North Central Division in 2012.
Visit www.drakechoir.blogspot.com for a complete performance schedule, as well as photos and student blog posts.
About St. Martin's Embassy Series
The St. Martin's Embassy Series is launching in 2014 as a celebration of St. Martin-in-the-Field's reputation as an international church and a world-famous concert venue. Visit www.stmartin-in-the-fields.org for more information.