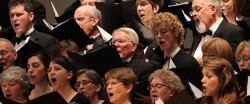 Starting Jan. 28, the Drake University/Community Chorus will begin rehearsals for an April 13 concert. The chorus is open to Drake students, faculty, staff, and the public, and does not require an audition.
"The Drake University/Community Chorus provides a fabulous opportunity for area singers to rehearse and perform exciting music with others who are passionate about singing," says Aimee Beckmann-Collier, director of choral studies at Drake University.
The chorus will be singing "Veni Sancte Spiritus" by AdlgasseR, "A Soft Day" by Brinsmead, "I Will Be a Child of Peace," by Drake alumna Elaine McDonald Hagenberg, and "Jubilation Deo" by Michael Fink (with brass sextet).
To participate, singers should attend the first rehearsal in Monroe Hall on the lower level of the Harmon Fine Arts Center, 25th and Carpenter. Rehearsals will occur Tuesdays from 6:30 to 8 p.m.
Singers should purchase the music prior to attending the first rehearsal. Music can be purchased at the Drake University Bookstore on 30th and Forest.
For additional information, contact Aimee Beckmann-Collier at 515-271-2841 or aimee.beckmann-collier@drake.edu.