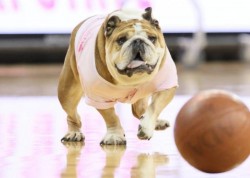 Porterhouse, the official live mascot of Drake University, died Sunday afternoon according to his owners, Kevin and Erin Bell.
The 8-year-old bulldog was a fixture at Drake athletic and university events since his crowning as Beautiful Bulldog in 2009. Thanks to the care and love of his owners, Porterhouse served as the ultimate ambassador for Drake University delighting fans, alumni and supporters of all ages.
"On behalf of the entire Bulldog Family, my heart goes out to Erin and Kevin Bell at the passing of our most beautiful bulldog and live mascot Porterhouse," said Drake director of athletics Sandy Hatfield Clubb. "His gentle nature and loving personality will be missed by everyone that has come in contact with him. Porterhouse allowed adults and children to pull on his ears, hug his neck, and take endless pictures by his side–indeed, no Bulldog has had such a meaningful and lasting impact on the Drake community. We sincerely thank Erin and Kevin for so lovingly sharing Porterhouse for the past four years."
Drake athletics will honor Porterhouse's service to the University with a moment of silence prior to Wednesday evening's game against Evansville. Fans will also have the opportunity to express their condolences and honor Porterhouse at the game. Details on additional events to honor Porterhouse will be forthcoming as details are available.