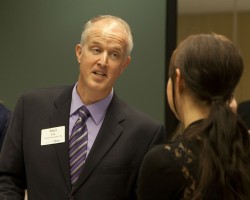 The Student Alumni Association (SAA) is moving full speed ahead with new programs that will reward both current Drake students and alumni.
The athletics department approached SAA to lead a school spirit initiative. SAA now oversees the Blue Crew, an audition-required group of students who help in various capacities with the Knapp Center's student section during home athletic events.
"It's harder at smaller schools to get students excited about athletic events," says SAA President Douglas Brady. "This initiative is also helping us connect with other student organizations like Residence Life and Greek Life."
Blue Crew's responsibilities include increasing student attendance at Drake home games, as well as organizing pep rallies and other spirit events that promote Bulldog pride.
Social media is a great way for alumni to engage with SAA. "Like" the SAA page on Facebook at
www.facebook.com/DrakeSAA
and follow the organization on Twitter at @Drake_SAA.
Another new initiative led by the SAA, Bulldog Connections, is a university-wide mentorship program linking current Drake students with alumni.
"Alumni engagement is important to us, which is why we wanted to create a program that would provide students and alumni a way to connect," says Brady.
The Bulldog Connections program will connect Drake students with alumni who share similar interests, career paths, or organizational involvement. On the first of each month, the pair will receive discussion topics, and if the mentor is near the Des Moines area, the organization hopes the pairs will meet in person.
One of SAA's biggest priorities this year has been to create a more engaging experience for its general members, which the organization hopes will lead to more engagement when those students graduate. SAA's membership has grown to its highest level and its executive board is thriving—both encouraging signs for the future of the organization.
"We hope that by engaging our members and impacting their Drake experience in a positive way, they will stay connected with the Alumni Office and Drake University upon graduation," says Jessica Berger, assistant director for campus and student engagement for the Office of Alumni Relations. "That is, in a nutshell, why we do what we do in Student Alumni Association: to create meaningful experiences for our future alumni that will then keep them engaged for many years in the future."