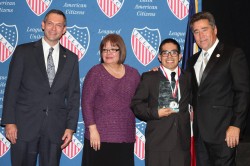 At the age of three, Hector Salamanca Arroyo came to the United States on a tourist visa from Puebla, Mexico. It wasn't until his last year of high school, when he was thinking about college, that his parents told him he was undocumented—and wouldn't receive federal aid because of it.
What once seemed like only a dream became a reality for Salamanca when he applied to Drake. Now a junior studying law, politics, and society, Salamanca is on track to complete his bachelor's degree in May 2015 and plans to continue his education to become an immigration lawyer.
"I made a promise to myself that being undocumented wouldn't hurt my goals, so I worked hard in school, got involved, and started sharing my story. When it came to achieving higher education, Drake was the only university that worked with me reasonably. The staff and faculty were very helpful during my transition here, and they worked with me financially so that I was able to get state aid."
During his time at Drake, Salamanca has met with several policy makers, including U.S. Senators Tom Harkin and Chuck Grassley, Congressmen Bruce Braley and Tom Latham, and former Iowa Governor Robert Ray, to talk about immigration reform.
"It has been an exhilarating experience to have met and discussed immigration reform with, as well as tell my own stories to, our Iowa elected officials. Helping organize rallies and events was a stressful but rewarding experience because I got to see all of my hard work come full circle when there was a good turnout."
For his hard work and involvement in the Des Moines community, Salamanca was awarded the Emerging Latino Leader Scholarship Award by the Iowa League of United Latin American Citizens. He was aslo featured on C-SPAN, discussing immigration reform and the DREAM Act.
"It was an honor to receive the award and I was pleasantly surprised and grateful that my professors, faculty, and Dean Joe Lenz from the College of Arts and Sciences were present at the awards ceremony. That showed me I have a support group at Drake that wants me to achieve as much as my family and community does. To be able to talk about the DREAM Act and immigration reform on C-SPAN was an awesome experience, and I can't describe how blessed I feel."
Salamanca has also worked with and spoken to many Latino youth in the Des Moines area about higher education. He's shared his story at high schools and middle schools in the community and currently works at the Boys and Girls Club. One of his biggest passions is to inspire young Latinos to pursue higher education.
"It is imperative young Latinos learn there is a future for them, and they should not let their background limit their opportunities. I believe that even though life can knock you down, you have to dust yourself off and continue marching on—to always believe in yourself even when others don't."