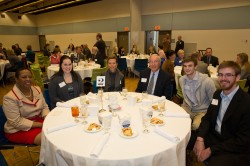 On Thursday, Nov. 14, Drake University celebrated its annual Scholarship Luncheon, which brings scholarship recipients and their benefactors together to converse and celebrate. Nearly 100 students enjoyed the chance to meet and thank their generous donors at the lunch held in Parents Hall.
Attendees had the opportunity to hear from Drake University Provost Deneese Jones and John Smith, vice president for alumni and development, who both extended deep gratitude to the donors who collectively have provided more than 5,000 scholarships this year. Provost Jones addressed the donors at a special reception prior to the lunch.
Mike Gartner served as keynote speaker at the luncheon. Mike is the son of Michael and Barbara Gartner, whose family established the Gartner Family Scholarship in 2010. Michael is chairman and principal owner of the Triple-A affiliate of the Chicago Cubs.
Mike is currently involved with his family's business. Before joining the Iowa Cubs, Mike worked at Orchard Place as a social worker. He has continued his family's legacy of community involvement through his role as a board member for organizations like Orchard Place, Best Buddies, and Character Counts in Iowa.
There are ten Gartner Scholars this year, including Zach Clement, a junior accounting and finance major, who spoke at the luncheon. Zach shared how meaningful it was to be named a Gartner Scholar.
"As a recipient of this scholarship, I am able to concentrate on academics, while working a part-time job that relates to my field of study at Wells Fargo Home Mortgage," says Clement. "This scholarship has inspired me to pay it forward. It is my desire to help impact future students at Drake, just as the Gartner family has helped me in achieving my personal goals."
Doug Brady, president of the Student Alumni Association, also had the opportunity to speak at the luncheon. He shared details on Philanthropy at Drake week, which celebrates Drake's growing culture of philanthropy and kicked off the Monday after.
CLICK HERE to view photos of the 2013 Scholarship Luncheon.
For more information, contact John Smith at john.smith@drake.edu or 515-271-2500.