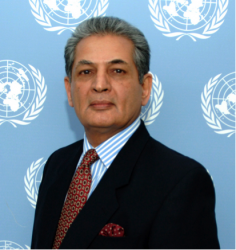 On Nov. 25, Ambassador Farid Zarif will deliver a lecture titled, "United Nations Peace Operations: A Shared Responsibility." This event will be held from 7:30–9 p.m. in the Sussman Theater of Drake University's Olmsted Center. This event is free and open to the public.
Zarif will discuss how the United Nations' peace operations address complex issues, drawing upon his own first-hand experiences in Kosovo. The issues he will discuss include security, civil administration, economic development, and supervising elections.
Zarif graduated from the Faculty of Law and Political Science at Kabul University in Afghanistan in 1973 and entered the Ministry of Foreign Affairs the next year. After finishing the Afghan Institute of Diplomacy with honors, Zarif studied international relations and diplomacy at Oxford University. During his diplomatic service, Zarif served in various positions inside and outside Afghanistan. He then worked as Secretary-General of Economic Advisory Council of the Chambers of Commerce and Industry. Since joining the United Nations in 1993, he has served at headquarters in New York and has worked for U.N. political, humanitarian, and peacekeeping operations in Eritrea, Liberia, South Africa, Iraq, and Sudan on various levels. Since 2011, he has served as Special Representative of the Secretary-General and Head of the United Nations Interim Administration Mission in Kosovo.
This event is sponsored by the Nelson Institute for Diplomacy and International Affairs and The Principal Financial Group Center for Global Citizenship.