When Mike Woods enrolled in the Adult Literacy Center at Drake University in March 2009, his goal was to get his GED. Since he was reading at the 3rd grade level, he first dedicated himself to improving his reading skills. He spent four years (approximately 500 hours) learning word concepts, sentence structure, vocabulary, and comprehension strategies.  These skills helped him complete the Wilson Reading System's Twelve Steps. He now reads at the college level.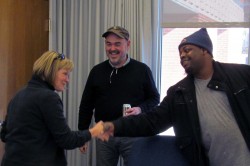 Volunteer tutor, Bill Barnes, guided Mike through Chinese poetry, newspapers and assorted novels during this process. After Mike finished his Wilson Reading studies last spring, he began preparing for the GED tests. His high reading and social studies scores in 2013 balanced out the low scores on tests he took in 2009. All he needed to do was study for the math test. This summer and fall he studied with volunteer tutor, Tonya Logan, and aced the math test in October. Tonya astutely observed, "I realized very early in our relationship that Mike is a truly unique guy with an ambition to learn. I also know I could not have had my success with Mike if Bill hadn't already invested years of teaching.  It is amazing what can happen when everyone works hard together!"
"Mike is not only a reader, he has learned how to learn," announces Anne Murr proudly. "There are tens of thousands of people in Central Iowa who say they want to get a GED, but too many feel overwhelmed and give up. Mike has remained determined to achieve his goals."
Next up for Mike, DMACC and then hopefully Drake.  Join us in congratulating Mike on his accomplishment.