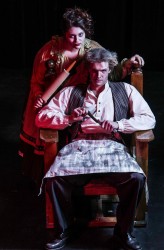 On Nov. 14–17, Drake University's Department of Theatre Arts will present Sweeney Todd: The Demon Barber of Fleet Street in the Performing Arts Hall of the Harmon Fine Arts Center. The performances will start at 7:30 p.m. on Nov. 14, 15, and 16, and at 2 p.m. on Sunday, November 17.
Sweeney Todd, set in nineteenth century London, tells the tale of an unjustly exiled barber and his quest for revenge against a lecherous judge who sent him away and destroyed his family. The show is directed by Karla Kash, associate professor of theatre arts, and the musical director is Leanne Freeman-Miller, associate professor of voice.
"I think that sometimes we are so quick to judge what is right or wrong. I certainly don't condone murder, but knowing the circumstances that this man was in, he's someone whose situation got so ugly that he no longer felt human," says Kash.
While Sweeney Todd is a musical thriller, it does include comical moments, unlike the movie version released in 2007.
"The stage version is much different," says Kash."I don't think you've really experienced Sweeney until you see it live."
This production contains mature themes including language, sexual content, and violence. Admission is $6 for adults, and $4 for students, senior citizens and those with a Drake ID. Tickets are available at the Fine Arts Center box office. Reserving seats in advance is recommended, which can be done by calling 515-271-3841.