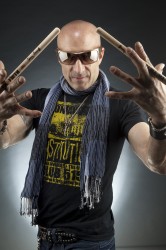 On Nov. 20, Kenny Aronoff, one of the world's most sought-after and influential rock drummers, will perform a free concert at 7:30 p.m. in Drake University's Sheslow Auditorium. Doors open at 7 p.m., and seating is general admission.
Aronoff's drumming style is a combination of power and grace, which has earned him the honor of No. 1 Pop/Rock Drummer and No. 1 Studio Drummer for five consecutive years from the readers of Modern Drummer magazine. Aronoff has performed and worked with many iconic musicians, including: John Mellencamp, Elton John, Bob Seger, Bob Dylan, Jon Bon Jovi, Willie Nelson, B.B. King, Mick Jagger, Ray Charles, Lynyrd Skynyrd, Smashing Pumpkins, and the Rolling Stones—and played on more than 30 Grammy-nominated recordings.
Prior to Aronoff's concert, Drake music students and all wind and percussion faculty are invited to join him for a master class in Turner Jazz Center at 3 p.m. The master class is invitation only.
"This class will be a unique opportunity for students to learn from a classically trained musician who has made a successful living in the rock 'n' roll world," says Clarence Padilla, professor of music and chair of Drake University's Music Department.
For more information about the concert, contact Erica Hartschen at erica.hartschen@drake.edu or 515-271-4990.