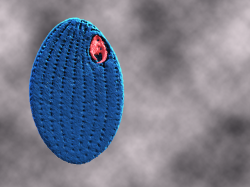 Jerry E. Honts, associate professor of biology at Drake University and Robert Sterner, biochemistry, cell & molecular biology major at Drake University, were invited to present their latest research at the Iowa Microscopy Society's annual symposium at the University of Iowa's Carver College of Medicine on Oct. 18. The presentation, titled "GFP-tagged proteins identify distinct domains within the membrane skeleton of Tetrahymena thermophila," shared the results of the team's research on the distribution of proteins identified in cytoskeleton of the ciliated protozoan Tetrahymena.
Ciliates are free-living single-cell organisms with a very complex surface architecture that is based upon a complex scaffold of protein filaments and fibers just beneath the cell surface. Their study yielded insight into how specific proteins generate this complex architecture, as well as how this structure is duplicated during the cell division cycle.
Honts and Sterner worked in collaboration with St. Olaf College and Washington University and used a confocal laser scanning microscope at the University of Iowa. The research was funded by a grant from Better Future for Iowans through the College of Medicine at the University of Iowa.
Sterner will have the opportunity to present the findings again in December at the American Society for Cell Biology's annual meeting in New Orleans. The American Society for Cell Biology is an international community of scientists who are dedicated to advancing research on life and cell biology. The organization's annual meeting in New Orleans will feature a series of workshops and programs in biological sciences.
For more information, contact Jerry Honts at jerry.honts@drake.edu or 515-271-3927.