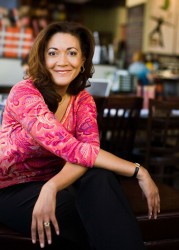 Michele Norris, National Public Radio (NPR) host and special correspondent, will present "The Race Card Project" on Nov. 6 at Drake University as part of the 2013 WOW! Wonder of Words Festival. The Race Card Project encourages people to share their thoughts about race, ethnicity and cultural identity. This event, which is free and open to the public, will be held at 7:30 p.m. in Sheslow Auditorium, 2507 University Ave.
Norris created The Race Card Project in response to her book, The Grace of Silence: A Memoir, in 2010. As she researched and investigated her personal background for the memoir, Norris discovered family secrets that caused her to question her racial legacy and illuminated a complicated racial history in the United States. She has brought The Race Card Project to communities around the country to inspire a candid national conversation about the difficult issue of race. More information can be found at theracecardproject.com.
Norris has won many awards as a journalist and has interviewed world leaders, Nobel laureates, Oscar winners, American presidents, military leaders, influential newsmakers, and even astronauts traveling in outer space. She has a rigorous but relaxed interview style that makes her approachable.
This special event is made possible by the Slay Fund for Social Justice and the Drake University School of Journalism and Mass Communication and the E.T. Meredith Center for Magazine Studies. The Slay Fund was launched by a gift to distinctlyDrake from Brent and Diane Slay, ED'70. The fund supports Drake programs that advance social justice.
For more information, contact Melissa Sturm-Smith at melissa.sturm-smith@drake.edu or 515-271-2835.