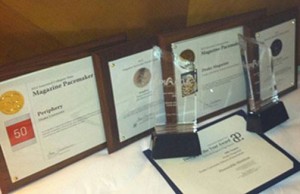 The work of Drake SJMC students continues to impress on the national level.
Drake brought home several awards at the National College Media Convention in New Orleans this weekend.
DrakeMagazine.com won the College Media Association's Pinnacle Award for Best Web Presence.
Think magazine won for Best Mobile App in the College Media Association Awards.
Drake Magazine won a Pacemaker Award from the Associated Collegiate Press, making it one of the top magazines in college publishing. The other Pacemaker winners were from the University of Oregon, Indiana University and UCLA.
Periphery, Drake's literary magazine, was one of four Pacemaker winners in the Literary magazine division.