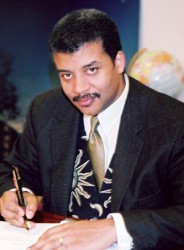 On Tuesday, Oct. 29, Neil deGrasse Tyson, world-renown astrophysicist and pop culture icon, will deliver the 31st lecture of the Martin Bucksbaum Distinguished Lecture Series. The lecture will begin at 7 p.m. in the Knapp Center.
In recent years, Tyson has made the leap from astrophysicist to pop culture icon. He is a frequent guest on The Daily Show, The Colbert Report, and Real Time with Bill Maher, and appeared (as himself) on The Big Bang Theory. Tyson's professional research interests include star formation, exploding stars, dwarf galaxies, and the structure of the Milky Way.
Former United States President George W. Bush appointed Tyson to two separate commissions, in 2001 and 2004, to examine the future of the U.S. aerospace industry and to make space exploration a part of the American political agenda. Tyson is also the recipient of 18 honorary doctorates and the NASA Distinguished Public Service Medal, the highest award given by NASA to a non-government citizen. His contributions to the public appreciation of the cosmos were recognized by the International Astronomical Union in their official naming of asteroid 13123 Tyson.
Tyson will join the long list of notable speakers who have been part of the Martin Bucksbaum Distinguished Lecture Series at Drake University, including former United State President Jimmy Carter and his wife Rosalyn, James Balog, Maya Angelou, Bill Bryson, among others.
The lecture series was established by Martin Bucksbaum, the late chairman and CEO of the General Growth Properties and his wife Melva. Mr. Bucksbaum was a member of Drake's governing board and a leader in the Des Moines community. The Bucksbaum Lectureship Committee now oversees the series in honor of Mr. Buckbaum.
Due to large turnout expected at this lecture, please note the following:
• No lines may form for entry until 3 p.m. on Oct. 29.
• It is not permitted to camp outside the building, including using or bringing chairs, tents, sleeping bags, etc.
• You may not hold a place in line for others. If you wish to sit together as a group, everyone in your party must be present to wait in line.
• Doors will open at 5:30 p.m.
• No tickets are required.
Visit www.drake.edu/bucksbaum for more information, including a complete list of past lecturers.