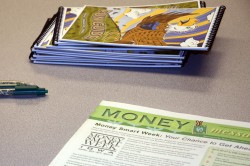 Drake University School of Education (SOE) students will meet for the second time on October 25 as members of the new Iowa Financial Literacy Academy. Dr. Sally Beisser, SOE professor and Joanne Kuster, financial literacy educator and author, provide leadership for the academy based on the legacy of Maddie Levitt's financial mentorship. This opportunity provides SOE students with a chance to increase personal financial knowledge while building financial teaching skills.
A group of 10 business leaders from the Des Moines area founded the Academy and fund these efforts. Upon an application, a group of 11 students were selected to participate.  They include Debora Black, Emily Bowman, Alyson Collins, Krystal Cudworth, Grace Manz, Nicole O'Conner, Linnea Pignatello, Meghan Price, Jennifer Quanrud, Jayme Shelby and Dana Swanson.
Benefits for Students include:
Financial expertise from speakers, discussions & hands-on workshops
Awards and prizes
Access to financial education conferences to build knowledge and expertise
Networking with educational leaders in the Central Iowa area
Financial literacy lesson ideas
Free lunch each Friday session
Dates and Topics include: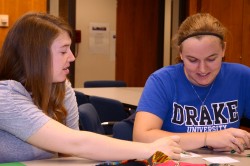 Friday, September 27
Spending—Can you have it all?
Living—What's your life plan?
Friday, October 25
Earning—Living a teacher's life
Saving—Piggy banks to bank accounts
Friday, November 22
Investing—No one cares about your money more than you
Friday, December 6
Borrowing—Manage current and future liabilities
Protecting—Keeping your assets, privacy, and financial info
Here's what leaders say about financial literacy:
"Having taught a course called "Money Matters: Financial Literacy Course for First Year College Students," the students learned collaboratively about the significance of starting early in life to make sound decisions about earning and managing their money. They summarized that a high "financial IQ" is not just inherited, but learned from seeking opportunities to advance skills and habits that build their net worth over time."           
Sally Beisser, Ph.D.
SOE Professor Drake University
"Financial literacy is understanding how money works in our environment. The level of financial literacy will vary by individual, but the impact of it in one's life will be one of the great differentiators for successful interaction with your family or an organization. A strong education foundation, including financial acumen, will pay long term dividends in one's life or career."
Terrance J. Lillis
Senior Vice President and Chief Financial Officer of the Principal Financial Group®
Secretary of the Board, Simpson College Board of Trustees
"I can't think of any subject more timely and more necessary than financial literacy. It is foundational to everything we do for ourselves and our families—making a budget, seeking a home mortgage, saving for our children's college and our own retirement.  There can be few, if any, things that have a greater payback for yourself than deepening your own financial literacy."
Larry D. Zimpleman
Chairman, President and Chief Executive Officer of the Principal Financial Group®
Chair, Drake University Board of Trustees
"Being financially literate is an imperative skill in today's society for any individual who wants to be successful. In order to provide for yourself and others, it is necessary to have a knowledge base in personal finance to make informed decisions that will have an impact on the rest of your life." 
Alessa Strelecki
Drake University Junior