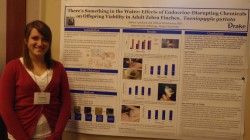 At the annual Iowa Physiological Society (IPS) meeting on Sept. 21, Drake University students took the research competition by storm, placing first, second, and third in the poster presentation awards. Seven Drake University students in total presented research at the meeting.
Zachary Kadow, a senior biochemistry, cellular, and molecular biology major, earned first place in the poster presentations. His work in Dr. Julia Moffitt's lab at Des Moines University examined the effects of exercise on cardiac arrhythmias and cell-cell signaling proteins.
Second place was awarded to Aubrey Lambach, a senior biology major. In Debora Christensen's biology lab at Drake University, Lambach researched endocrine disrupting chemicals and their effects on offspring weight and survivability.
The third place award went to Alisa Pajser, a senior psychology major, for her work in William Klipec's psychology lab at Drake University, where she examined changes in the timing of conditioned response patterns as a potential tool for studying Alzheimer's disease.
IPS is associated with the American Physiological Society (APS) and was founded in 1995. The mission of IPS is to unite physiologists in enhancing, networking, and advancing physiology throughout Iowa.
For more information, contact David Senchina at david.senchina@drake.edu or 515-271-2956.