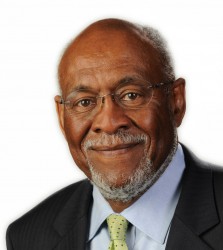 Johnnie Carson, LA'65 and senior advisor to the president at the United States Institute of Peace, will deliver a lecture titled "Africa: The Changing Face of the Continent," on Oct. 3 at 7:30 p.m. The lecture, which is free and open to the public, will be held in Sheslow Auditorium at Drake University, 2507 University Ave, with a reception to follow. This event will also be live streamed at www.drake.edu/stream.

In his lecture, Carson will review trends in African politics and economics, specially discussing Africa's economic growth rate, progress in combatting disease, and its greater political stability.
"Africa is rapidly changing as rates of economic growth on the continent are among the highest in the world. Many countries have also experienced growing political stability even as others remain locked in turmoil," says David Skidmore, professor of politics and international relations at Drake University. "There is no one better qualified to help us understand Africa today than Ambassador Carson, who until recently served as America's highest ranking diplomatic representative to Africa. As a Drake alumnus, Ambassador Carson also serves as an inspiration to today's generation of Drake students."
Carson's 37-year foreign service career includes ambassadorships to Kenya (1999-2003), Zimbabwe (1995-1997), and Uganda (1991-1994); and principal deputy assistant secretary for the Bureau of African Affairs (1997-1999). Earlier in his career he had assignments in Portugal (1982-1986), Botswana (1986-1990), Mozambique (1975-1978), and Nigeria (1969-1971). He has also served as desk officer in the Africa section at State's Bureau of Intelligence and Research (1971-1974); staff officer for the secretary of state (1978-1979), and staff director for the Africa Subcommittee of the U.S. House of Representatives (1979-1982). Most recently Carson served as assistant secretary of state for the Bureau of African Affairs from May 7, 2009 to May 29, 2013.
Carson is the recipient of several Superior Honor Awards from the Department of State and a Meritorious Service Award from Secretary of State Madeleine Albright. The Centers for Disease Control presented Carson its highest award, the Champion of Prevention Award, for his leadership in directing the U.S. Government's HIV/AIDS prevention efforts in Kenya.
Carson earned his Bachelor of Arts in history and political science from Drake University, and later earned a Master of Arts in international relations from the School of Oriental and Africa Studies at the University of London.
This event is sponsored by the Principal Financial Group Center for Global Citizenship. For more information, contact David Skidmore at 515-271-3843 or david.skidmore@drake.edu.