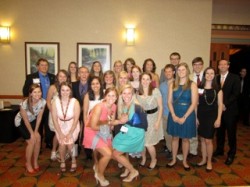 The Phi Delta Chi Pharmacy Fraternity at Drake University recently received awards for scholarship and overall excellence at the organization's national meeting in Omaha, Neb. More than twenty Drake members attended the banquet at which the chapter was recognized.
"Our chapter has put in a ton of work trying to come up with new programs and create new ideas," says Geena Brickson, second year pharmacy student and president of Phi Delta Chi at Drake. "The fact that our work was competitive on a national scale makes us very proud."
The chapter completed a series of reports that were graded by Phi Delta Chi's national officers. As a result, the Drake chapter earned second place in scholarship and fifth best chapter overall.
For many years, the Drake chapter has placed in the top ten, but only the top five chapters are recognized at the awards banquet.
For more information, contact Geena Brickson at geena.brickson@drake.edu.