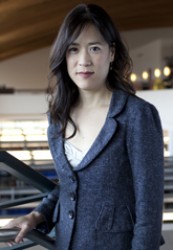 As a former state prosecutor, Drake Law School Professor Ellen Yee has a keen understanding of the United States criminal justice system. She uses her practical experiences to help students explore the underlying principles of criminal law.
But how is justice served in other nations, particularly when the alleged perpetrator is not an average citizen but a head of state? Who brings charges against high-ranking officials, and which court tries them?
With no universally accepted judicial model, even the experts are still wrestling with these questions of international law. Numerous countries have established temporary courts in an effort to address complicated grievances. The International Criminal Court, in existence for only 10 years, is the world's only permanent tribunal for genocide, war crimes and crimes against humanity. During a year-long sabbatical, Yee performed as a visiting researcher at the T.M.C. Asser Institute, an inter-university research institute specializing in International and European law in The Hague, Netherlands. During that time, she was also a visiting professional in chambers at the International Criminal Court in The Hague, and in the Office of the Co-Prosecutors at the Extraordinary Chambers in the Courts of Cambodia in Phnom Pehn, gaining rare first-hand experience that will greatly enhance her classroom teaching on this evolving field.
Her work in the ICC involved cases against two officials who were elected to Kenyan leadership while facing charges for allegedly inciting violence after a previous election. (The controversial election of Kenyan President Uhuru Kenyatta while he faced charges of crimes against humanity prompted United States Assistant Secretary of State for African Affairs Johnnie Carson, LA'76, to warn Kenyans that "choices have consequences.") Yee's work on those cases, and another involving former heads of the Khmer Rouge, gave her rare insight into the complicated process of international law.
"It was extraordinary to see the workings of these courts, and to examine which aspects of the United States common law legal process these courts are adopting, amending, or rejecting," says Yee. "These in-depth experiences have significantly informed the teaching that I do in international law."
Yee plans to apply lessons from her sabbatical experiences in her courses taught at home in Des Moines, as well as those taught abroad in the Drake Law Summer in France Program at the University of Nantes, France. Issues directly involved in her research, such as the limits of a defendant's right in international court to confront his or her accusers, will help students shape their perspective on the application of justice in the United States.