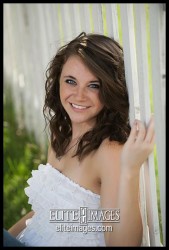 Marissa Schuster, an entering first-year student at Drake University, won the top scholarship and first place in the monologue competition at the Educational Theatre Association's Thespian Festival in Lincoln, Neb.
More than 2,500 students and teachers gathered on the University of Nebraska–Lincoln's campus in June for the Thespian Festival, a weeklong celebration of theatre that offers more than 100 workshops, two performances per day, a student leadership program, and auditions for college admission and Thespian scholarships. Schuster received the top performance scholarship of $3,000 and first place in the monologues competition.
"It was an amazing feeling winning such a huge scholarship and performing in the showcase," says Schuster. "I was so happy with what I accomplished, and it was great to see all my hard work pay off. I remember going in the Lied Theater after finding out, and my director, Aaron Dean, gave me a giant hug. He was so proud of me, but I knew I wouldn't have been able to achieve what I did without his support and guidance."
Schuster competed against thousands of other students from across the country.
"Performing in front of so many people was completely overwhelming, but as soon as I opened my mouth to deliver my first line, all my nerves went away," says Schuster.
Schuster will attend Drake in the fall and plans to double major in musical theatre and psychology. The $3,000 scholarship from the Thespian Festival will be used toward her education at Drake.