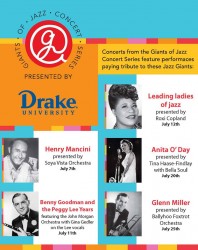 Drake University has partnered with Metro Arts Alliance to sponsor Jazz in July's "Giants of Jazz" series. Music from a variety of jazz legends will be featured at each of the concerts throughout the month of July.
The concert series will take place at various locations around the metro on July 11, 12, 21 and 25:
July 11 Benny Goodman and the Peggy Lee Years, featuring the John Morgan Orchestra with Gina Gedler on the Lee vocals
July 12 Leading ladies of jazz, presented by Roxi Copland
July 20 Anita O'Day, presented by Tina Haase-Findlay with Bella Soul
July 25 Glenn Miller, presented by Ballyhoo Foxtrot Orchestra
Visit http://www.jazzinjuly.org/concerts/ for more information.